Noda Awards
Three Awards for 20/21!

Attending 2022's NODA Award Gala, we were absolutely astounded to earn a hat trick of 20/21 awards for District 10. First we won Best Panto for Shakespeare The Panto, then Best Online Production for A Covid Nativity. Then, to top it all, we were presented with The Councillor's Cup for our ongoing efforts to entertain the public during Lockdown with four online productions: A Covid Nativity, Ghost Of A Chance, What's It All About Dave, and The Romans On Canvey. We love what we do, and its often very hard work, but being shown the appreciation with such accolades makes it all worth while! 
CHESHIRE CATS
Much to our delight, Cheshire Cats won the acclaimed region 10 Best Drama Award 2016 at the NODA Ceremony on Sunday 9th April 2016. Smuts's Saga sadly did not win an award but to be nominated for Best Panto AND Best Technical was an accolade in itself for our very first pantomime. We are all very proud! None more so than Sarah Lepley (Cheshire Cats) & Deb Jea (Smuts Saga) who made their directing debuts with these productions. Cheshire Cats author, Gail Young, is equally as delighted about our Award for the fabulous play she wrote. Well done everyone!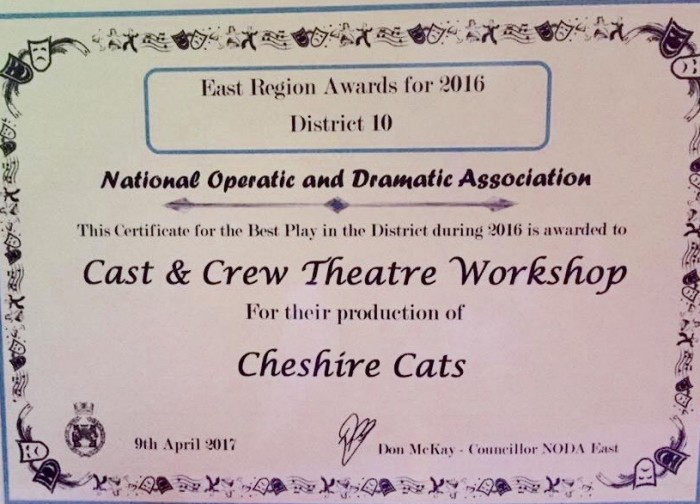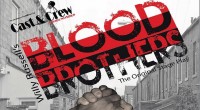 Winner of 2011 District 10 Best Play, Best Production and Best Solo Actor
When our current director, Ray Stone, announced we would be performing one of the most popular, gritty and entertaining plays ever written, we were buzzing with excitement, but we had no idea how far into the limelight his decision would take us. We were presented with the first accolade for this production on the evening of our Murder Mystery, 'Who Killed The Vicar', when NODA's Tessa Davies surprised us all by awarding member, Andy Shore, with the Alan Wood Best Solo Actor Award for his part as Mickey Johnston. Then, on the 29th April 2012, we were busting with pride and anticipation as we attended the NODA Awards luncheon; just to be nominated for best play was more than we had expected, but when Tessa named Cast & Crew Theatre Workshop the Disctrict 10 winners of the Best Play, we had no idea we would then take the Trophy for Best Production and we jumped out of our seats with joy. We knew then, with a play that had no set, played in the round, on a low budget, which could beat a fantastic and spectacular production such as LTC's Jesus Christ Superstar, that Cast & Crew had made a big impact on the world of Amateur Theatre. And we do not intend to stop there! A Big thank you to Ray Stone and Tessa Davies for taking us to such new and great heights!


We were very proud of member Andrew Shore for Winning the coveted Best Solo Actor Trophy!