About Cast & Crew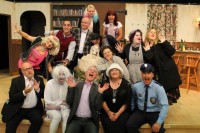 Cast & Crew Theatre Workshop are a popular community amateur theatre company. A laid back and friendly group, always welcoming new members and offering a chance to try your hand onstage and behind the scenes. Our low subscription fees are paid on a weekly basis. Heaps of social events and theatre trips take place within the group and all established members get the chance to direct and stage manage as well as act or be an important part of the backstage crew. We are an active & friendly group who manage to fit social events, charity fund raising and group fund raising into their busy rehearsal schedules. Our productions are hand picked by the member chosen to direct a show, so if you've ever fancied yourself in the director's chair, Cast & Crew will give you the opportunity to do so! If acting is your forté, be prepared to be thrown in at the deep end with a challenging role to cut your C&C teeth on.
Your interest may lie backstage and we always have room for stage managers, light, sound and stage technicians or perhaps something simpler.. props, costume co-ordination or even being in charge of refreshments. We also welcome students looking for experience in performing arts and whose college projects would benefit from spending time with us by designing & creating some of our stage props. Our social events range from our own fund raising bingo evenings to bowling, theatre trips, eating out, whatever our social committee can conjure up! We're fun and friendly and you'd feel very welcome from the off.
If you would like to become part of the group in any aspect mentioned above, hit the 'Join Cast & Crew' Link on the left.